History
AKKO Oto. Mak. Hırd. San. Tic. Ltd. Şti, which has been founded by Abdullah KARAKUŞ in 1986, produces Turning Tool Holders, Threading and Grooving Tool Holders, U-Drills, Milling Tool Holders and Precision Tool Holders ( OEM Tool Holders ). Now, AKKO produce standard 3000 kinds of tool holders with production capacity of 180.000 pieces per annum in an area about 8000 square meter with latest technology lathes and equipments that are produced by countries like Turkey, Japan, Germany, Sweden. AKKO keep ready about 100.000 pieces produced products in our stock to meet request of our customers immediately without saying them we have nothing for sale. All kind of process from machining of steel to heat treatment and coating on tools are made in integrated factory AKKO.
Nowadays, AKKO are exporting to 72 countries including European countries, Asian Countries, African Countries, Asian Countries, South American Countries and Middle East Countries. AKKO proceeding on the way of being the best of the sector by realizing short-term, medium-term and long-term investment plans without caring Global Recession.
Company Profile
AKKO has customer-focused organization structure since its inception, is pleased to continue transferring know-how to its customers with its experienced and talented permanent staffs by developing its dialogs more between its customers. Greatest hapiness is serving all companies that makes machining. Everything is for customers who deserve the optimum and the highest quality products.
AKKO Product Line
CUTTING INSERTS and TOOLHOLDERS

POLY-V GROOVING INSERTS and TOOLHOLDERS
INSERTS and TOOLHOLDERS FOR GROOVING CORNER RELIEFS
BROACHING INSERTS and TOOLHOLDERS
VALVE SEAT INSERTS and TOOLHOLDERS
WHIRLING INSERTS and TOOLHOLDERS

EXTERNAL TURNING TOOLHOLDERS

EXTERNAL TURNING TOOLHOLDERS DESIGNATION SYSTEM
T-SYSTEM EXTERNAL TURNING TOOLHOLDERS
M-SYSTEM EXTERNAL TURNING TOOLHOLDERS
P-SYSTEM EXTERNAL TURNING TOOLHOLDERS
C-SYSTEM EXTERNAL TURNING TOOLHOLDERS
S-SYSTEM EXTERNAL TURNING TOOLHOLDERS
S-SYSTEM TOOLS FOR SWISS TYPE SLIDING AUTOMATIC LATHES
SEC TOOLS

INTERNAL TURNING TOOLHOLDERS

BORING BARS DESIGNATION SYSTEM
T&C SYSTEM BORING BARS
M-SYSTEM BORING BARS
P-SYSTEM BORING BARS
S-SYSTEM BORING BARS

CARTRIDGE

CARTRIDGE DESIGNATION SYSTEM
S-TYPE ENGINE OVERHAUL CARTRIDGE
S-SYSTEM CARTRIDGE
P-SYSTEM CARTRIDGE AND PIPE BEVELING and CHAMFERING TOOLS

THREADING TOOLHOLDERS

THREADING TOOLHOLDERS DESIGNATION SYSTEM
THREADING TOOLHOLDERS and TECHNICAL INFORMATION

GROOVING TOOLHOLDERS

GROOVING TOOLHOLDERS DESIGNATION SYSTEM
EXTERNAL GROOVING TOOLHOLDERS
EXTERNAL GROOVING TOOLHOLDERS FOR SWISS TYPE SLIDING AUTOMATIC LATHES
FACE EXTERNAL GROOVING TOOLHOLDERS
L TYPE FACE EXTERNAL GROOVING TOOLHOLDERS
BLADES FOR PARTING AND DEEP GROOVING
BLOCKS FOR PARTING AND DEEP GROOVING BLADES
INTERNAL GROOVING TOOLHOLDERS

DRILLING and HOLEMAKING TOOLS

U-DRILL SYSTEM and DESIGNATION SYSTEM
DRILL CHAMFERING RING TOOLS AND MOUNTING SYSTEM
EXCENTRIC ADAPTOR FOR U-DRILLS
SPECIAL DRILL ORDER FORM
ECONOMIC CUTTING TOOLS and DESIGNATION SYSTEM
ADJUSTABLE BORING HEADS and DESIGNATION SYSTEM

MILLING TOOLS

MILLING TOOLS DESIGNATION SYSTEM
S-SYSTEM CHAMFERING END MILLS
HELIX CHAMFER MILLING TOOLS
COUNTERSINK MILLING TOOL FOR CYLINDRICAL ALLEN HEAD SCREWS (DIN 974-1)
S-SYSTEM END MILLS
S-SYSTEM FACE and COPY END MILLS
S-SYSTEM HIGHFEED END MILLS
S-SYSTEM MODULAR END MILLS (SCREW TYPE TOOLS)
S-SYSTEM MODULAR (SCREW TYPE) HIGHFEED END MILLS
BALL NOSE MILLS
BALL NOSE MODULAR (SCREW TYPE) END MILLS
SCREWED TOOL HOLDERS
THREAD MILLING TOOLS
S-SYSTEM HELIX END MILL
FACE MILLING
FACE and COPY MILLING TOOLS
C-SYSTEM FACE MILLING
HIGH FEED MILLING TOOLS
T SLOT MILLING
DISC MILLING
MOUNTING REFERENCE FOR MILLING CUTTERS and TECHNICAL INFORMATION

SPARE PARTS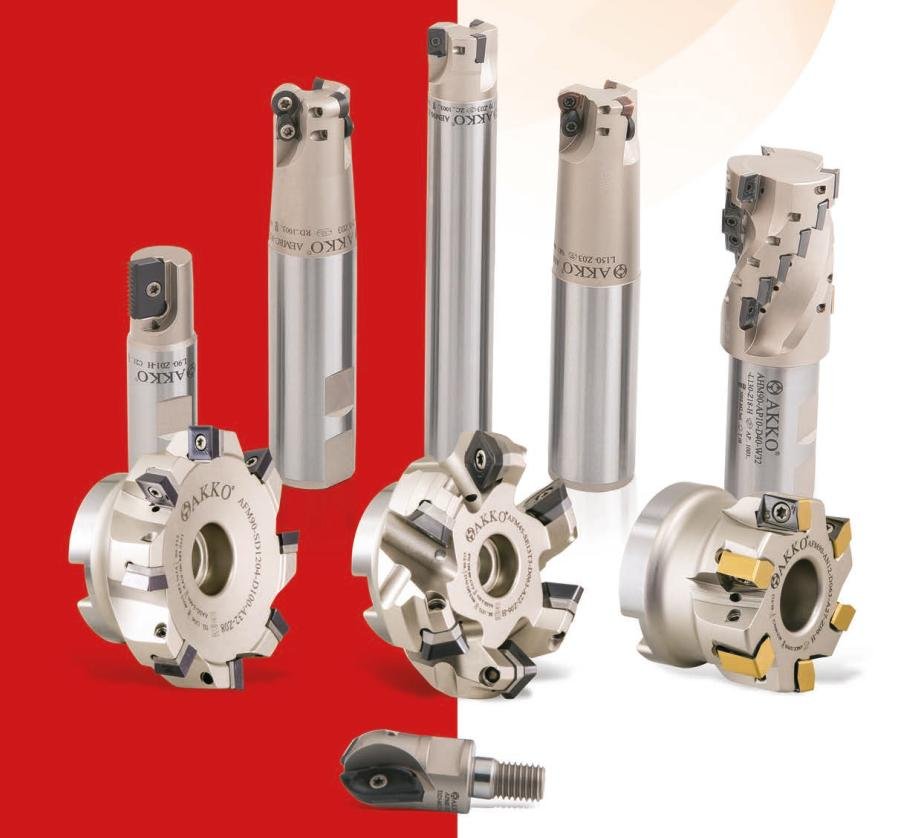 AKKO Tools catalogs
Here you can find AKKO catalogs ready for download as well as AKKO pricelist:
Inquiry and quick order form
Please contact us if you have any questions related to AKKO products or if you want to make a work order.
---
Company news and offers