Ceracarb Tools, brand from South Corea, is manufacturer of advanced ceramic cutting inserts, inserts with PCD tips, CBN inserts, whisker ceramic, SiAlON, silicon nitride cutting tools.
Ceracarb Company Profile
CBN and PCD inserts
Ceramic cutting inserts (white ceramic, black ceramic, coated ceramic inserts, reinforced with whiskers)
SiAlON and Silicon Nitride insertsBest choice for cast iron (ISO K) and super alloys (ISO S)
Production Program
The Cubic Boron Nitride (CBN, also known as Amborite) inserts are, thanks to the high technology, one of the best-seller of Ceracarb.
At the beginning they were used for finishing of irons and hard materials.The technology development has widened the applications to heavy dry roughing of grey cast-irons,it is possible to use them also with an abundant coolant flow.
Besides the single tip series, with the time have been introduced the multitips inserts and, above all, the solid version (series 100) with and without hole and with dimple, by request can be supplied with chipbreaker (see available forms bellow)
The hardest syntetic cutting material PCD is suitable for machining of non-ferrous alloy, normally aluminium or titanium, chipboard wood and copper. It machines very well at very high cutting speed, keeping its cutting edge for an extra long life. CERACARB offer different qualities both for turning and milling also in bad cutting conditions.
The SiAlON qualities are the last generation of Silicon-Nitride characterized by the superior life of the cutting edge in heavy
cutting conditions of high-alloy irons and aerospace materials.
They have a tremendous resistance to the thermal-shock and allow to work at very high temperatures.
The several Ceracarb qualities of Silicon-Nitride (Si3N4) allow to vary from heavy roughing both in milling and turning to finishing of gray and nodular irons, both dry and with coolant.
The "dimple" versions are becoming more and more popular especially in the DT 850 grade.
Ceramics
The extra high hardness at very high temperatures and reduced plastic deformation allow a very wide application range in turning of irons and hardened materials up-to Hrc 60.
The different grades allow, according to the material to be machined, different wear resistence in heavy cutting conditions. The coated versions (VZ…) improve the chip evacuation on difficult surfaces.
Whisker is the material for machining different types of heat resistent superalloys with high percentage of Nickel or Cobalt and difficult chip control.
The three qualities of Ceracarb whisker cover all the application for roughing both in turning and milling.
White ceramic
It is mainly made (99%) of alumina-oxide (Al2O3). The white ceramic has a thick structure with very fine grain. So the inserts in CC200 have very high hardness and superior wear resistence.
Best applications are the turning of gray-irons, dry, e.g.: machining of the grooves by plunging in pulleys and other transmission components.
Cermet
Mainly composed of Titanium carbide (TiC) and Titanium nitride (TiN) these inserts have an excellent resistence to the oxidation.
They keep their hardness at high temperature, giving a tremendous long life cutting edge and an extraordinary finishing quality on P group steels.
The coated version (CT..) can be used also in some millig operation. Anyway they guarantee a smooth flow of the chips.
Examples
CNGN, CNGA, CNMA, CNGX, CNMX, DNGN, DNGA, DNGX, DNMX, RCGX (from RCGX 09 to RCGX 19), RNGN, RNGX, RPGN, RPGX, SNGN, SNGN, SNGA, SNGX, SNMX, TNGN, TNGA, TPGN, TPGA, VNGA, VNGX, WNGA
Tools for machining of cemented carbide and conventional rolls: milling of rebar notches on cemented carbide rolls. Most common is PCD (Polycrystalline Diamond) with full face PCD layer.
Special CBN or PCD tipped grooving insert with smallest possible radius and width for optimized machining of narrow passforms.
Like Sandvik Coromant's N123J1-0600 S01025 – we can replace it by identical CBN grooving insert with highest content grade, to achieve better productivity and performance.
PCD and CBN inserts in our program
Single tip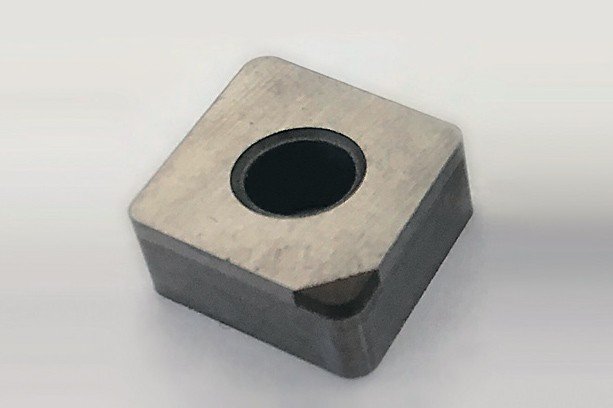 single cutting edge brazed on a carbide base
the standard solution for cbn and pcd
through away after use
Multi tip
2 or more cutting edges, according the shape of the insert
save money for your volume production
look at the numbers laser marked, not to lose new edges!
Full top
the whole top face brazed on inserts without holes
typically available on round and square
widely used in milling
Flip tip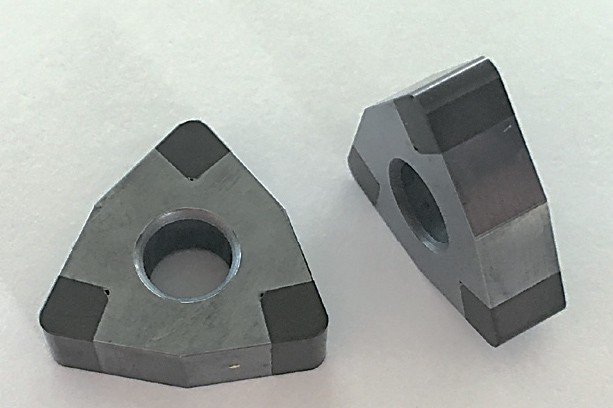 tipped inserts all along the thickness
the cheapest way for solid cbn on inserts with hole
multiple edges for higher saving
Solid CBN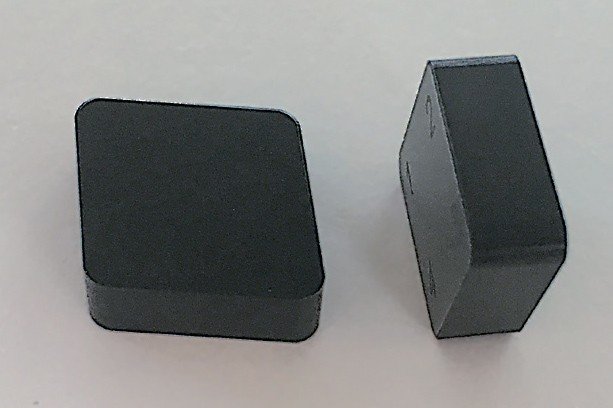 the latest and more performing way to machine
roughing and finishing of cast iron and finishing of tungsten carbide
suitable for continuous cut at high parameters
Solid CBN with dimple
the best clamping on solid cbn inserts
dimple shapes may be:

DB, dog bone – the most common dimple
RD, round – to use all the sides
EL, ellipse – alternative to DB
SQ, square – on S inserts only, alternative to RD
PCD and CBN tips for notching
Machining (milling and turning) of rebar notches on cemented carbide rolls. The primary cause for roll pass deterioration is thermal fatigue cracking. Thermal fatigue is a consequence of repeated heating and cooling of the surface. Periodic machining of the surface is of great importance for maximized tool life.
PCD and CBN provide a greater life time up to 10 times that of the cemented carbide grades due to:
Polished surface
Impact strength
Special cutting edge preparation for great performance and better tool life
Cutting insert grades compartion tables
Some additional information to help you compare Ceracarb grades to different grades from most well known cutting tools producers like Sandvik Coromant, Seco, Kennametal, Walter, Sumitomo, Mitsubishi, Toshiba Tungaloy, Kyocera, Iscar, Korloy, Taegutec, SPK Ceramtec, NTK, SsangYong, Greenleaf, Widia and Sumitomo (click on image to slide)
Ceracarb catalog
Here you can download Ceracarb Tools catalog:
Related materials
Inquiry form
Please contact us if you have any questions related to Ceracarb tools or if you need technical support.